FOR IMMEDIATE RELEASE
Technology Accreditation Canada (TAC) today announced the prize winners of its 2021 Technology Report Contest. Awarded the top prize of $1,000 are Stefan Abbott, Riley Yetman and Allyssa Byrne, graduates of the Mechanical Engineering Technology at College of North Atlantic, with their "Greenhouse Snow Mitigation System" report.
The contest, open to TAC and CTAB (Canadian Technology Accreditation Board) national accredited programs, saw twenty-four reports submitted. A panel of TAC auditors from select engineering technology and applied science disciplines formed judging panels to conduct an initial rating of the reports. The top two reports in each discipline group were assessed by a final judging panel of three certified professionals, each with extensive education, industry and audit backgrounds. Reports were scored on their topic selection, methodology/research, analysis, results/conclusions, originality/innovation and presentation.
The project idea of a greenhouse snow mitigation system was derived after speaking with program advisors who connected the students with their main point of contact, Sean Dolter, who presented the problem. The project goal was to develop a solution which would stand alone and operate independently of the greenhouse itself. "We are ecstatic to have been awarded the top prize of this year's technology report contest", commented Allyssa Byrne on behalf of her teammates. "Working on this project enabled us to use what we have learned throughout the past three years in a real life scenario, which has proven to be instrumental in preparing us for a career after graduation by imposing critical thinking, problem solving and networking".
"We are deeply proud of the high standards and successes achieved by our students and this achievement is a clear reflection of the high-quality education provided by the College of the North Atlantic" remarked Sonny Hegde, Dean, School of Engineering Technology, College of the North Atlantic. "As an integrative and culminating educational experience, capstone projects allow our students to demonstrate the knowledge and skills acquired in the engineering curriculum and apply it to real-world projects."
Judges commented on the overall outstanding quality of the submissions, with many mentioning how much they learned. The final judging panel noted the winning project exhibits excellence in engineering design and problem solving. The methodology and steps to determining a solution was a great demonstration of the capability of an engineering technologist.
"I am very pleased to see Stefan, Allyssa and Riley win this prize as the capstone project was the result of eight months hard work in challenging circumstances", expressed Andrea Scott, CET, Instructor, Mechanical Engineering Technology, College of the North Atlantic. "Demonstrating excellence in problem solving and integration of their mechanical engineering technology course
work, the students completed the project for an industry partner and were able to offer a solution to a real problem".
The team of Stefano Bernardo, Kyra Dutton-Piskorik, Amitoj Singh and William S. Trujillo from the Mechanical Engineering Technology program at Northern Alberta Institute of Technology collected the second place prize of $500. Judges found the pure technical development in their report, "Reliable Mold Designs For Small Carbon Fiber Parts", was well executed with a strong demonstration that 3D printing applications and uses are still being revealed.
With their report titled "Structural Effects of Spray-Applied Polyurethane Foam Insulation Within a Wood Framed Wall Section", the $300 third place prize was presented to the team of Harrison Hadford, Jordan Dyck and Sishminder Singh from the Civil Engineering Technology program at Lethbridge College. The literature review, development and establishment of testing structures and parameters, along with recommendations for further study, was a clear indication of critical thinking observed the judges.
"Once again, this year's Technology Report Contest showcased the incredible student talent produced from national accredited programs" pronounced Richard Stamper, TAC Executive Director. "We thank students and program administrators for their participation and support."
The three top reports can be viewed at 2021 TR Contest.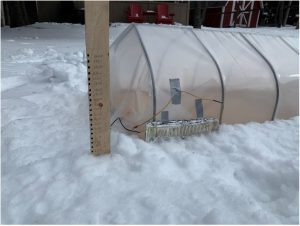 The photo on the left is the small scale model experiment that was taken before snowfall began. A numeric scale was made to measure the amount of snowfall
and a temperature gun was used to monitor the mat. Readings were taken every 15 minutes. The second photo was taken three hours later after the snowfall stopped.
With the amount of snowfall, temperature readings and evident snow mitigation, this experiment demonstrated the validity of the proposed solution.
About TAC
As the national accrediting body for the engineering technology and applied science profession, TAC is committed to partnering with educational institutions to ensure students receive the highest quality education which meets the profession's national educational standards. For more information about TAC, visit technologyaccreditation.ca.
Contacts:
TAC
Richard Stamper
Executive Director
t: 416-847-1016, ext. 254
rstamper@technologyaccreditation.ca